---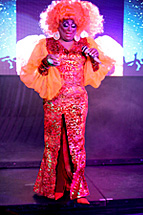 Welcome to the official Diva Royale Show Website.
Featuring The Finest In Female And Celebrity Impersonation. Get Up Close And Personal With Your Host, Joan Rivers, And Her Guests Madonna, Dolly Parton, Celia Cruz, Liza Minnelli, And Our Honorary Diva, The King Of Pop, Michael Jackson! & More..

Come Celebrate With Us Your Birthday, Bachelorette, Sweet 16, Anniversary Or Any Special Event. We Will Make Your Night Unforgettable!

Locations in New York City, NY, Philadelphia, PA, Atlantic City, NJ, Orlando, FL, Atlanta, GA, Los Angeles, CA, New Orleans, LA, Chicago, IL, Boston, MA, Miami Beach, FL, San Francisco, CA, San Jose, CA, West Hollywood, CA. Las Vegas, NV, Austin, TX, Charlotte, NC, Charleston, SC, Nashville, TN, Myrtle Beach, SC, Baltimore, MD, Raleigh, NC, and Washington, DC.