Drag Queen Show nyc, Drag Queens, Drag Queen Revue for Parties nyc. Drag Queen atlantic city AC at Drag Queen Club in New York City, Atlantic City Drag Queen Party night clubs. Connecticut Drag Queen for Private Parties, Drag Queen Parties, Drag Queen Parties and Male Strip Shows in New York, New Jersey, Atlantic City, Connecticut, Chicago IL, and Nationwide. Girls night out New York NYC Drag Queen clubs CHIPPENDALES stripers NYC... Drag Queen style male review...Atlantic City male revue, revues, review, reviews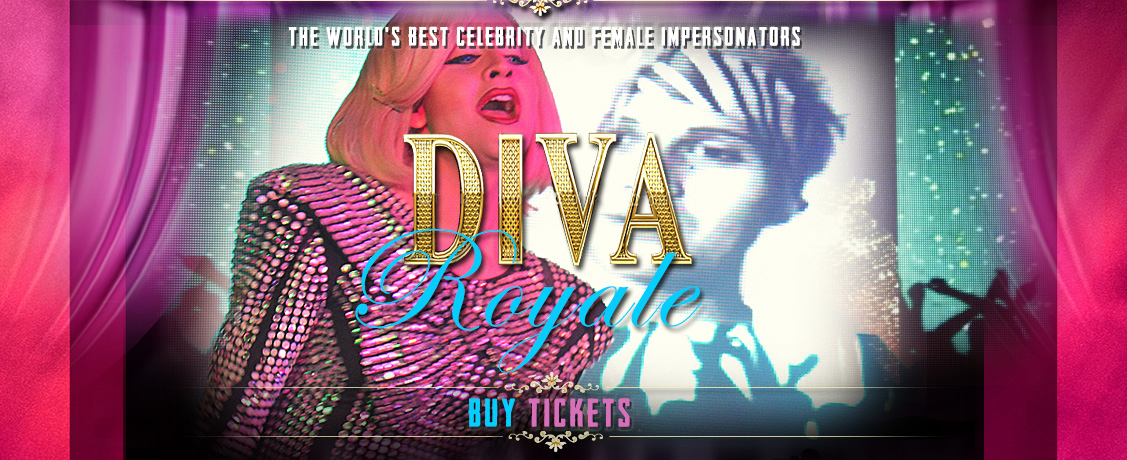 Ticket info: (917) 633-4943

Diva Royale - Featuring The Finest In Female Impersonation every Friday & Saturday!

There is a 2 drink minimum required in the New York City location (Cash Only). Dinner is not mandatory, but only prepaid dinner is served. Click here for a menu example

New York City, NY - Copacabana - 268 W 47th Street (Corner of 8th Ave) - Age Limit: 18+
Philadelphia, PA - 254 South 12th Street - Age Limit: 21+
Atlantic City, NJ- Tropicana Hotel & Casino - Anthem Lounge - 2831 Boardwalk - Age Limit: 21+
Orlando, FL - 375 South Bumby Avenue - Age Limit: 18+
Tampa, FL - 1401 E 7th Ave - Age Limit: 18+
Atlanta, GA - 1100 Crescent Ave NE - Age Limit: 21+
Los Angeles, CA - 1640 N Cahuenga Blvd, Hollywood - Age Limit: 21+
New Orleans, LA - 940 Elysian Fields Ave - Age Limit: 21+
Chicago, IL - 226 West Ontario Street - Age Limit: 21+
Boston, MA - 8 Park Plaza - Age Limit: 21+
Miami Beach, FL - 447 Lincoln Road - Age Limit: 21+
San Francisco, CA - 2470 San Bruno Avenue - Age Limit: 21+
San Jose, CA - Coming Soon! - Age Limit: 21+

Fridays & Saturdays at 8:00PM - Doors open at 7:00PM for seating and dinner

Terms and Conditions:
Any Ticket holder unable to present valid identification indicating that they are at least at the age limit listed above will not be admitted to this event, and will not be eligible for a refund.